BODY CENTER
Collision Repairs at Young Chevrolet Cadillac for Your car, truck or SUV
Did you have a collision in Lansing, Flint or Grand Blanc and now want to cover up the event with repairs? Our team at Young Chevrolet Cadillac is educated in all things related to your Chevrolet model, and that means repairing scratches, dents, dings, and more. Who wants to drive around in a car that's been beaten up? We know that you don't, so why not come down and see how we can help you restore it to its former glory?
Dings, Dents, and Scratches - the Young Chevrolet Cadillac Body Shop Can Do It All
Whether it's a ding in your side because someone flung their door open too quickly next to you, or a crack in your windshield from a flying pebble, our body shop pros can handle it all. We're trained and certified by Chevrolet to know these models better than anyone, and our shop is equipped with the latest technologies and tools, to make our work accurate as well as efficient. From repairs to replacements, to paint jobs, we'll get you looking great in no time.
Schedule an Appointment at Young Chevrolet Cadillac for Chevrolet Collision Repair
If you're looking for assurance of quality and precision for your car, truck or SUV repair, then there's no better place to bring it than Young Chevrolet Cadillac. We know that collision repair requires a lot of trust, so if you have any questions about our Chevrolet collision services, then contact our team. Our body shop is dedicated to making your experience as simple possible so that you can get back on the Lansing, Flint, Grand Blanc roads and enjoy your car, truck or SUV as it was intended.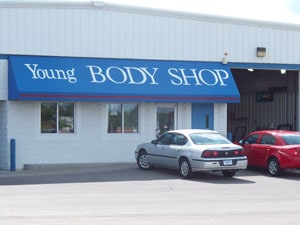 WHY BRING YOUR VEHICLE TO US?
The Young Auto Body Shop
Our Certified Service technicians are trained by GM to know every inch of your GM vehicle. We understand your vehicle and all its technical systems. We're proud to offer genuine GM parts. We know you want to feel as good about your vehicle today as you did the day you bought it. And our Certified Service technicians have the skills and finesse you need to restore your vehicle so it will look and feel like new.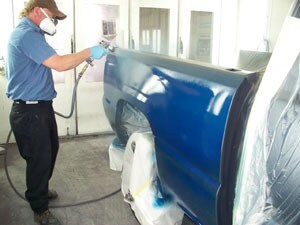 WHAT TO EXPECT
Bodyshop Advisor
We'll create a written estimate of what's recommended to complete the repair, and we will offer Genuine GM Parts. In addition, if there is other service work that is required to restore your vehicle to pre-accident condition, we have Certified Service technicians on hand. We will review this estimate with you and address any questions you may have.